Since 1936, Carolina Bank's continued to be a family-owned and operated community bank, dedicated to providing locally based, community growth and financial services for our neighbors.
In Bennettsville, we've raised businesses and families together for more than forty years. Carolina Bank provides opportunities to inject growth and success into local living. While more financial institutions abandon or syphon resources from the community, we are investing in our home. We've rebuilt and promoted our full service branch because we believe in and love Bennettsville.  
As a showing of that love, we'd like to announce a community gathering on December 15th 5:30pm – 8:00pm at the Bennettsville branch of Carolina Bank (243 East Main Street Bennettsville, SC 29512). Food will be provided. We'll also have music and good conversation. Whether you're a customer or friend or future friend come out and have fun.
RSVP Below (Not Required)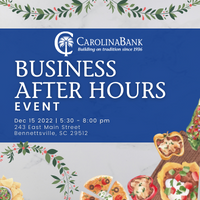 Facebook Event Link: https://fb.me/e/291S9kkna