Regular Savings
$100.00 deposit to open
No Maintenance Fee if the balance remains $100 or above
Six Free withdrawals permitted per month
Interest is compounded daily and paid at the end of the quarter
Statements are issued and mailed out quarterly


Nonprofit Savings
$100.00 deposit to open
No Maintenance Fee regardless of the balance
Six Free withdrawals permitted per month
Accountholders must qualify as Nonprofit Organizations
Interest is compounded daily and paid at the end of the quarter
Statements are issued and mailed out quarterly
---
Business Solutions Team
Schedule an Appointment with Professionals
Our solutions team is fully equipped to implement our better banking services and expertise in your business. Contact any one of our Business Solutions Team today for financial insights, corporate products, enhanced digital services and more!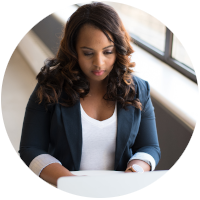 Business Account Applications
Online Quicker Account Setup
We know running a business is time consuming. Let us help you get the products and services that you need in a quick and organized fashion. Click the link below and fill out a Business Account Application form. Once the online form has been submitted, your local Carolina Bank branch can begin doing all the work involved in opening the account ahead of your visit, saving you and your business precious time.