National Consumer Protection Week
March 6th - March 11, 2023
Purpose
National Consumer Protection Week is dedicated to protecting all Americans.
It is observed each year in the U.S. to raise awareness about consumer rights, good buying practices and actions to prevent unwanted information theft. The main objective is to provide education that results in smart decisions.
Government Agencies & Tools 
This is an federal initiative to support all U.S. consumers. Which means, each federal agency has various information, tools, and assistance they can provide in relation to National Consumer Protection. The FDIC has many invaluable financial suggestions listed on their website, along with a dedicated
Consumer Resource Center
.  The FTC has an entire schedule for the National Consumer Protection Week, and it is dedicated to social awareness of frauds and scams. The SSA has Scam Alerts and Reporting pages that'll be up-to-date with malicious social security related scams. Additionally, The White House has issued a proclamation on "National Consumer Protection Week, 2023" that underlines some of the major concerns about the modern world of scams.
Federal Deposit Insurance Corporation (FDIC)
Federal Trade Commission (FTC)
Social  Security Administration (SSA)
The White House
Slam the Scam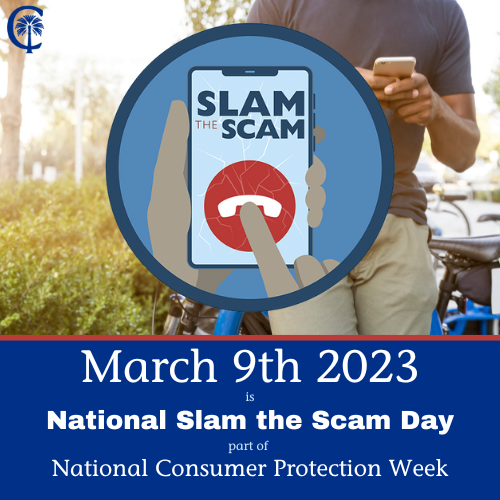 There's no better way to celebrate "National Slam the Scam Day" than by hanging up on scammer.
On March 9th, we spread the word about deliberately denying calls and blocking phone numbers from social phishers. 
Teach yourself and others to hang up on unsafe, unknown numbers.
Don't let bad people take advantage of your hard earned money or your personal information!
#SlamtheScam