What are Credit Card Skimmers and Card Shimmers?
Skimmers and shimmers are devices used by criminals to harvest information from payment terminals (found on ATMs, gas pumps, drink machines, etc.) on any unsuspecting person. This is done by the use of small and malicious external devices, placed by attackers, to lie seamlessly over the legitimate card scanner or pin pad. When you insert your card it will go through the skimmer or shimmer device then it will enter into the legitimate card scanner. You then pull out the card, completing the transaction as you normally would, unaware that your card data has been stolen. The scammer will then have access to your information and begin to make fraudulent purchases.
What is the Difference between Card Skimmers and Card Shimmers?
Card skimmers have been around for a few years. These devices siphon information from swiped cards via its magnetic strip. Card shimmers, on the other hand, are a newer form of thievery. As we have increased our security measures by switching to credit and debit cards with security chips (EMV), thieves have created shimming devices to read that information on chipped cards. There are currently less shimmers than skimmers, but the number of these devices is increasing daily.
 Examples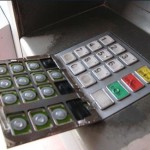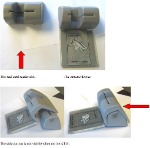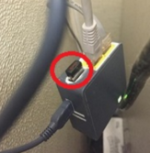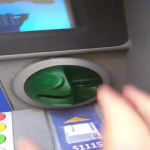 1.) Faux PIN Pad to steal PIN Numbers
2.) Shimmer placed over a legitimate device.
3.) Wireless fob used to send stolen information.
4.) Shimmer covering a ATM card reader. 
Follow the link above for more examples of these devices. This will help your familiarity with their appearance.
How to Spot the Fakes
Look for mismatched colors, bulky scanners with jutting plastic pieces, people watching close by, snapped seals or tape, incognito cameras (not owned by the bank), scanners in isolated areas and unusually long card scanners. Also look for any signs of tampering. This can be presented as tears and breaks around the scanners shell or as scratch marks where criminals struggled to attach their skimmer or shimmer device. It can also appear as miscellaneous USB dongles inserted into the machine, such as Bluetooth transmitters.
Precautions for Suspicious Machines
In order to be better guarded from this criminal activity we recommend taking certain precautions when using any payment terminal.
Only use payment terminals that you consider safe and secure from tampering.
Survey the machine and your vicinity for devices that may be trying to obtain your PIN number.
Give any suspicious card scanners a wiggle and pull to make sure nothing is placed around the card slot.
Feel for gaps in-between the machine and a suspect skimming or shimming device.
Look for markings or lights that are obscured by the skimmers, as this will make it look "out of place".
Consider an electronic payment option such as: Apple Pay, Samsung Pay, or Android Pay at unfamiliar stores.
If you are unsure of an ATM's security, visit your nearest Carolina Bank branch location instead and go inside.
Always report any skimming or shimming devices used on our credit and debit cards to Carolina Bank immediately. Any form of fraudulent purchases on your account should also be reported as soon as possible. If you suspect any of our machines of being tampered with please alert us. All business owners should check their credit card machines for tampering, and keep that machine under constant surveillance.
Because We Care
We care about your information, we care about your finances, and we care about your safety. We at Carolina Bank are determined to take every precaution possible when protecting our customers. That is the sole purpose of this public service announcement. Hopefully, by reading this letter and being aware of these skimming and shimming devices our customers will be prepared for these criminal practices.
Sources & More Information for Skimmers and Shimmers